Therapy riding in the media
Sissel Thorson Falch - The four-legged physiotherapist helps
Written by Magnus Hattestad Jensen and Nina Elisabet Haukeli.
Published in the magazine Mensendieck No. 1 2013.
We are at a height not long walk from the center of Oslo, surrounded by beautiful old woods and large plains and a pleasant tranquility. At an enclosure we meet a pig in the gate who welcomes us briefly. We are told that his name is Bacon, he walks freely around among the other animals that are behind lock and key. Or partially behind lock and key. It turns out that many of the two-legged and four-legged at times are more or less on the loose within the gates. Chickens, cocks, peacocks, horses, cows, pigs, rabbits, goats and sheep. It strikes me how short it takes before the fascination for animals has brought us all out of the professional purpose we are really here for, and into a random joyful play with animals.
The playfulness and the joy and the spontaneity give a feeling of calm and pleasure, a flow. Not unlike the qualities of what one would call good therapy in other settings.
We reluctantly manage to tear ourselves away from the joyous play, to the animal's brief disappointment, and continue our exploration into some doors, up some stairs, into a few more doors. It smells of new wood in the gigantic riding hall we eventually come to, although it is filled with riders and horses and an instructor who pretends to have a good coast on both horses and hearers.
We stand for a few minutes and follow the concentrated riders in what may resemble a kind of synchronous riding, but we have not yet found what we are looking for, so we continue up a flight of stairs and through an office with history on the walls and old riding gear. Then we enter a cafe and here we find what we have been looking for. In front of us stands a gray-haired lady, with an energetic eye and a warm smile.
Sissel Thorson Falch runs EKT riding school where we are. She has lived near animals all her life, but the horse has always had a central place. Her grandfather bought the first Shetland ponies in private ownership in Norway, and the horse team was continued and extended at Ekeberg by her father and mother, and more animals were added and activities for both children and adults were added. Father and mother Edvin and Eva Thorson started in 1981 Langedrag Nature Park, which has probably seen programs from NRK. Sissel then took over the operation of EKT Riding School and Animal Park at Ekeberg in Oslo. In 1960 she took her first formal riding education in England.
Falch talks about his great inspirer and teacher Elsebet S. Bødtker (1917-1998). She was trained as a Mensendieck Physiotherapist in 1940 and used the principles from here in the development of therapy riding. She was the first in the world to introduce therapy riding as a treatment for children and young people with disabilities. The collaboration with the superiors Paulsen and Diderichsen from the beginning of the 1950 century gave the subject the importance of later becoming part of the social security reimbursement scheme. Together with husband Edvard Bødtker, Elsebet Hamang ran a farm in Bærum. Sissel spent many hours in the open yard of Mr and Mrs Bødtker, and laid here the basis for the knowledge she was going to bring with her in the field. When Falch saw the effect of the therapy on the patients, and with inspiration from Bødtker's mensendieckt approach, she started at the Norwegian Mensendieckskole where she graduated in 1964. She followed Aagot Norman's last litter at school. Falch remembers a statement from one of the doctors she worked with; "When I send patients to a physical therapist, they come back after three months. When I send the patients to the mensendeck, they do not come back. "You can clearly see that Sissel Falch is a mensendiecker in body and mind. She shows great awareness of body ergonomics and attitude when working with the horses. She is still an active menseck instructor with weekly groups and has 65 patients on horseback.
What is the emphasis in treatment?
Mrs Bødker's method is the basis for therapy therapy at EKT. The physiotherapist must be a capable rider in order to support and instruct so that the horse's and patient's movement reactions and potential are maximized. This is very important. Falch is self-educated by cavalry trainers and has such a good understanding of the horse's movement and behavior that she dares to support manually from the ground, that she dares to leave all patients sitting alone without a saddle on the horse's back, that she dares to run alongside the horse in gallop . Indeed, most patients should experience pacing, trotting and galloping relatively quickly, and most will experience understanding and coping relatively quickly. The different gaits give impulses and movements throughout the body to the rider. Intermittent movements of the horse start the muscle interaction in the rider's body. In steps (4 beat) the rider's movements are just like our walking movements. In trot (2 beat) and canter (3 beat), muscle activity increases and training improves both safety and interaction with the horse. Balance training always happens without stirrups. Patients always start without a saddle and all riding students at EKT must go at least one semester before they can start saddle to practice balance. All training with the patients is carried out with the least possible technical aids. Prostheses, rails, corsets and all kinds of passive support are removed before patients sit on horseback. The riders hold loosely in the neck ring or the bridle, with relaxed shoulder arch and elbows in slight flexion against the horse's neck. The goal of the therapy riding is for the rider with disabilities to experience harmony with the horse by both being in balance.
How has the therapy riding profession evolved?
Falch now dares to say that she is disappointed with the development of therapy riding. Many therapists choose to sit on the horse with the patient. She says she thinks "Mrs. Bødtker would be upset if she saw that they were sitting on horseback two and two. I've never even thought of sitting on the horse with my worst patients. " She explains that a horse is not made to bear. When two people sit on horseback, the body's center of gravity will impede the horse's free, natural movements. "And what happens to the heat when using a saddle? The heat from the horse is gone. The heat can provide a good experience and it can cushion spasms. "After talking to Sissel Falch and reading Sissel Falch's book" Therapy Riding. The horse - the four-legged physiotherapist "we know that physiotherapists who used to do therapy in the past had a great deal of riding experience and did not use equipment such as custom-made saddles and protective vests. "Physiotherapists have recently used specially made saddles for the worst patients. This is an unfortunate development as we must strive to have enough experienced helpers from the ground so that the horse's movement and warmth can come to its full right. "
At Falch and EKT, exercises are also not a big part of therapy therapy. "You don't need complicated exercises. As a challenge and variety, I use some simple arm movements. With the time we have available, the horse's movements are enough. Training in crotch, trot and canter is the training needed. "Bødker introduced the concept of Hesten- den four-legged physical therapist. That's exactly the point; The horse and the movements during the riding are the therapy. Falch thinks we should go back and see what Ms. Bødtker did to get the therapy form through as an approved form of treatment.
Neither does Sissel particularly like the increasing use of assistive devices in therapy riding, nor the protective vest. No aids were used before. With good working technique and close follow-up, the experience for both rider, therapist and horse can become stronger and closer.
Get therapy riding back on the agenda
Sissel wants the therapy riding profession to gain a greater place and position in the health care environments. In fact, many health professionals do not know that therapy riding exists. She is concerned that therapy riding should not become a regular riding, but that the principles Bødker has developed are practiced with the awareness and pride that can give the therapy riding the influence and status it deserves. That it creates health and improves the quality of life she has seen for many years, and it would be sad if such an offer fades and loses its position.
New center at Ekeberg
EKT Equestrian School and Animal Park has undergone a number of renewals and upgrades in recent years. In 1998, Sissel and husband Michael Falch began preparing for a new equestrian center. The new center was clearly in 2011, and it has become a great center where history and nostalgia go hand in hand with modern functionality. Sissel has always had an idealistic approach to the business, but explains that she must probably become a little more businesswoman now that the investments have become so large. She still hopes that the positive and hopefully even better experiences are worth paying for. We at least leave Ekeberg with lots of great experiences in our luggage and would love to return soon. Whether you want to ride yourself, watch the kids ride, watch shows, play and cuddle with the animals or enjoy the green café in the oasis of wildlife, EKT is a great place for both adults and children.
NRK Lifestyle Published 2019 - Fredrik (4) uses horses to get healthier
Fredrik (4) uses horses to get healthier
May Holme
---
Fredrik (4) enters the riding hall with joy in the riding hall with the Shetland pony Jewel (20). The boy embraces the Jewel with clear rejoicing.

Fredrik gets help in holding the reins. He gently takes his fingers on the horse's muzzle. It goes well. The Shetland pony understands that it is friendly.
Fredrik's father and mother say their son has been referred to equestrian physiotherapy. The boy struggles to walk alone and is mentally retarded.
His father believes that his son has gotten much better after half a year of equestrian physiotherapy.
- Fredrik is very pleased to be with animals, and we are clearly seeing progress in physical development, says dad Kristian Brende.
Educates the horses

Treatment by means of riding may sound strange to many, but Sissel Thorson Falch from EKT Equestrian School and Animal Park emphasizes that there is serious treatment in both somatic and psychiatric treatment.
- We spend about seven years training a safe physiotherapy horse, she tells NRK.
You must have your own approval or continuing education course at the Norwegian Physiotherapy Association to practice equestrian physiotherapy.
Thorson Falch is a trained physiotherapist herself and has been with the profession since 1967. She says that the horse's movements are the treatment itself. The movements in different gaits trigger pulses in the body and brain.
At the same time you get close contact with a large and warm animal. It gives confidence.
- Sitting on a moving surface requires you to concentrate; you get moving and feel mastery, Thorson Falch explains.
Mastery and joy
The students at the therapy class have different needs. Common is the joy of this treatment method.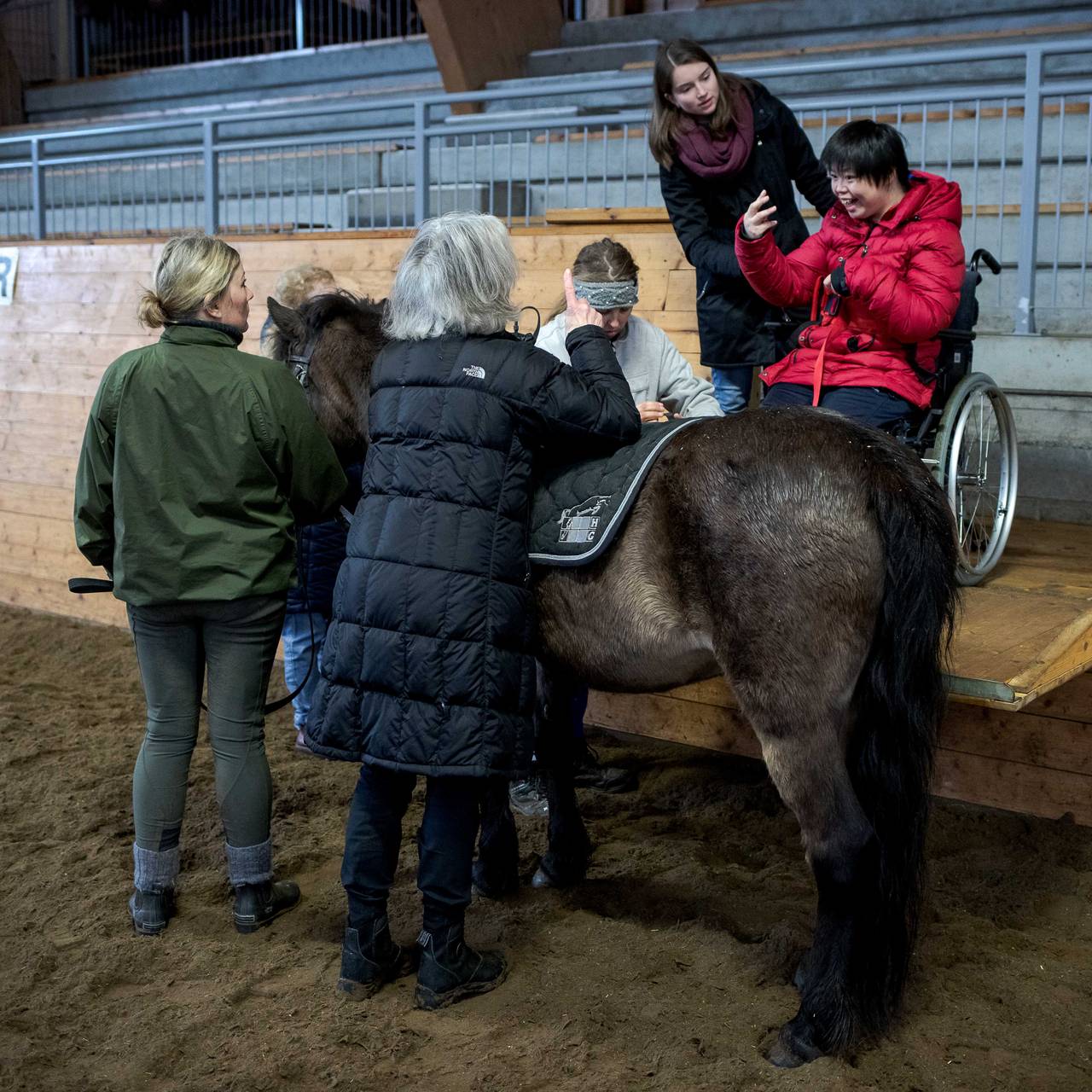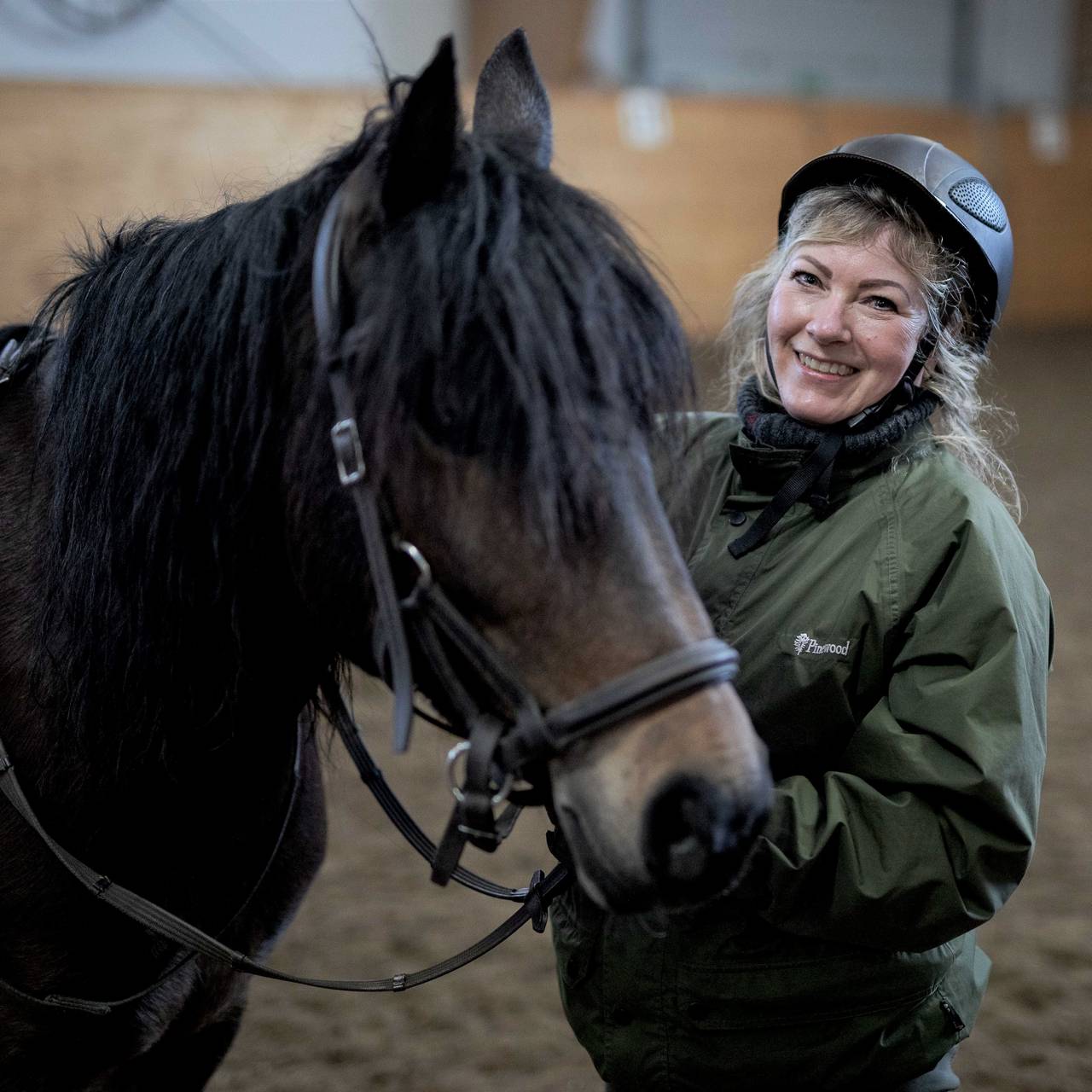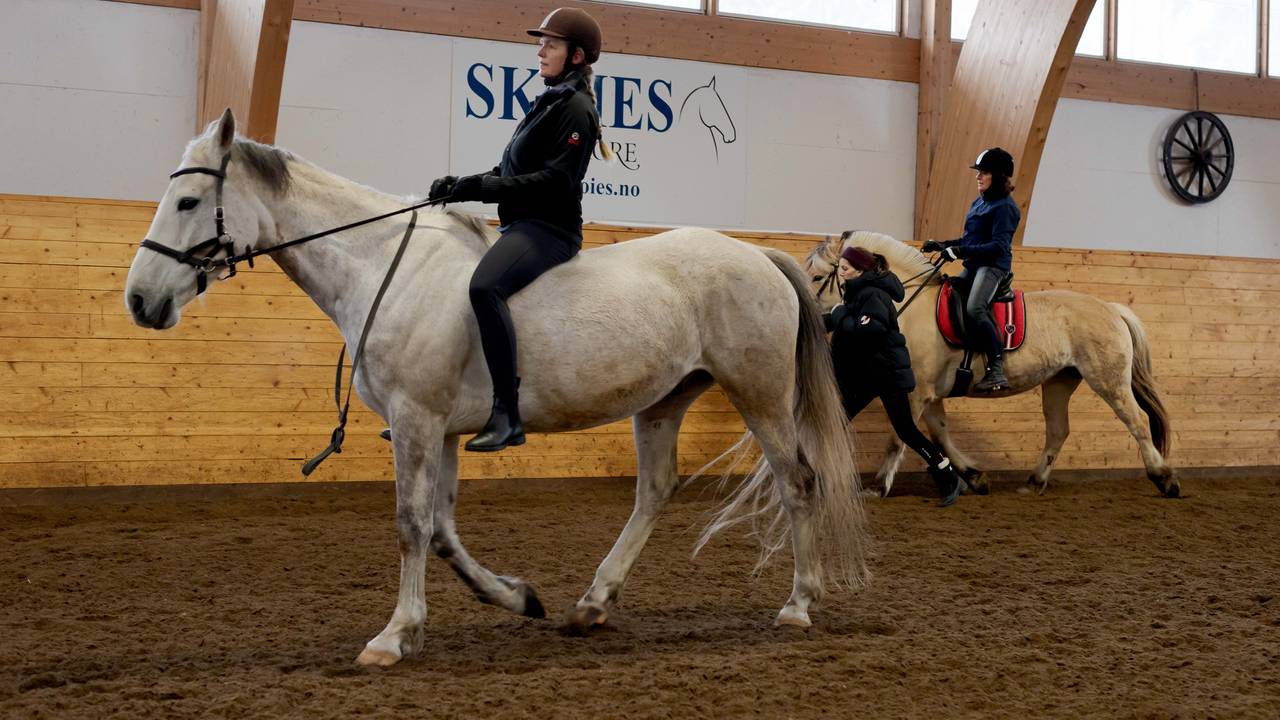 The horse as a health worker
- Horses and other animals can have a stress-reducing effect on us humans, explains researcher Ingeborg Pedersen at the Norwegian University of Environmental and Life Sciences.

Camilla and the therapy horse Lenny have a nice break together.
Photo: Patrick da Silva Sæther / NRK
At the university, several occupational groups can take continuing education to use animals in health-promoting work. Since 2008 with dogs and from 2017 with horses.
It gives a health benefit to use horse as a health worker, says researcher Ingeborg Pedersen.
- The sense of coping one gets when working with animals, we want each one to be able to transfer to other areas of life as well, says the researcher.